Fashion Illustration with Marker Rendering for Beginners is now available to gift to someone special. Give the thoughtful gift of experience!

Give the gift of experience! The only thing better than learning something new yourself is gifting that joy to someone else! Purchase my online class Fashion Illustration with Marker Rendering for Beginners and gift it to someone special.

How it Works:
Step 1: Click the "Enroll in Course" button below.
Step 2: Select your payment option and follow the checkout process through to payment.
Step 3: Within 24 hours of purchase, an email with a link containing a unique coupon code will be emailed to the email address you used during checkout.
Step 4: You can then forward that email to your gift recipient so that they may redeem their online class gift.
Have you admired fashion illustrations from afar but have been too intimidated to try creating them for yourself?
Maybe you've tried creating a fashion illustration using markers before but have gotten frustrated when you couldn't create the desired effects...
Welcome to Fashion Illustration with Marker Rendering for Beginners! If you're interested in learning how to draw fashion figures with artist's markers, then you're in the right place! Even if you've never sketched a fashion illustration before, we'll start from the very beginning and work our way up to illustrating the complete fashion figure.
In this class, we'll cover how to find inspiration and gather materials. You'll learn how to sketch a basic fashion runway figure and utilize various marker techniques to render multiple patterns and textures. We'll also go over how to illustrate fashion details like faces, hair and difficult-to-draw hands and feet.
We'll break through that frustrating "ugly phase" together and land on the other side where you feel confident enough to keep practicing and working towards developing your own illustration style.
Your Instructor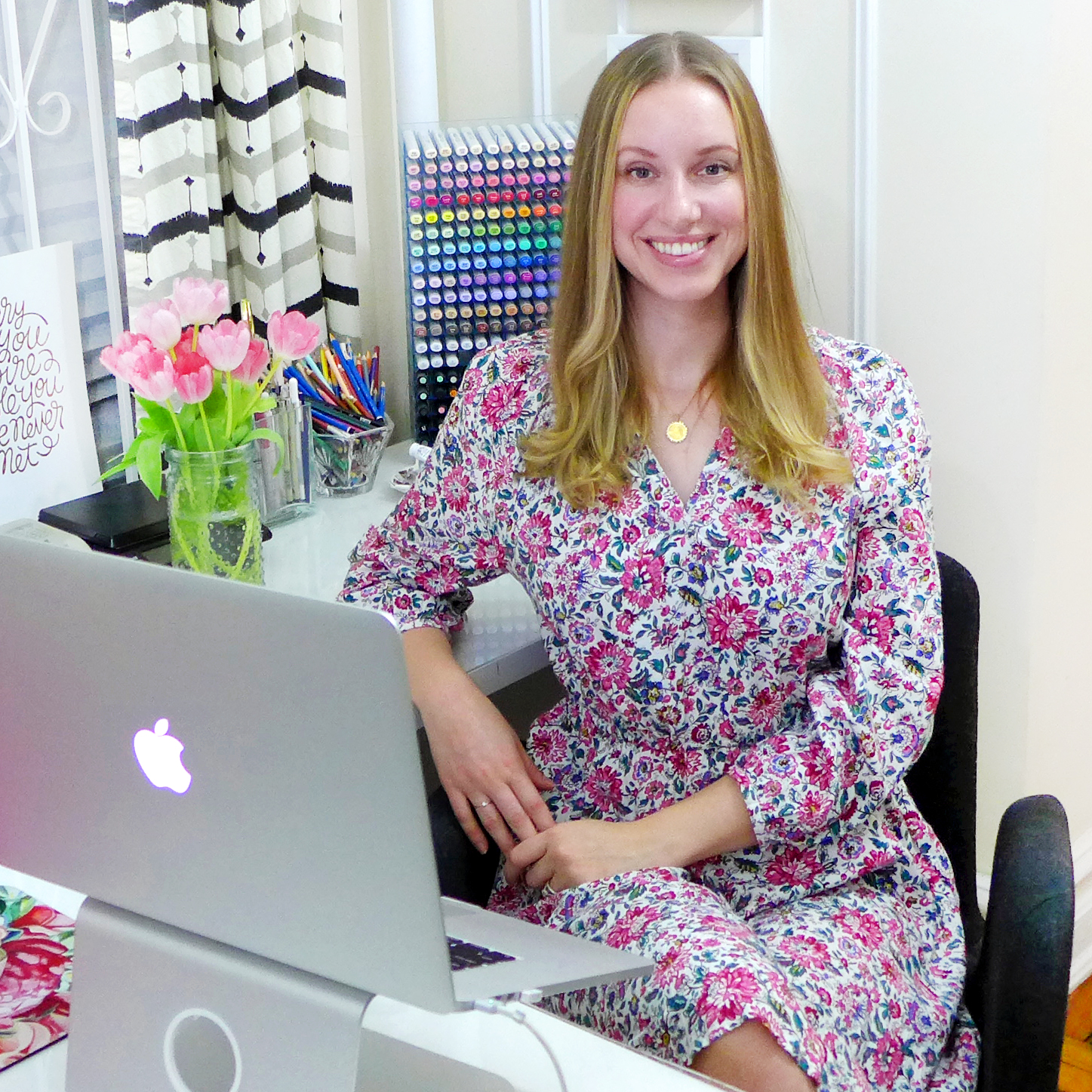 Hello! My name is Joanna and I'm a fulltime freelance illustrator and designer living in New York City. I have a passion for illustrating and creating beautiful things, both of which I pursued in college, earning a degree in Studio Art from Washington College and a fashion design degree from Parsons School of Design.
After working for five years as a designer in the fashion industry, I decided to take the leap in January of 2015 and pursue a career as a freelance illustrator. Over the past four years, I've built a business selling my illustrations as art prints, stationery & gifts and have collaborated with brands big and small on commissioned illustration projects.
I love sharing my illustration process on Instagram and YouTube and after receiving many emails and questions about how I create my drawings from start to finish, I decided to create a comprehensive class packed to the brim with all of my favorite fashion illustration tips and tricks that I've learned over the years!
This course is composed of step-by-step mini lessons, leading up to the creation of three complete fashion illustrations
If you're thinking "I don't have much experience, is this class right for me?" or "I've tried it before, and I just can't draw"
Don't let inexperience or previous frustrations hold you back! We'll break down each element of creating a fashion illustration into manageable exercises so you can gain confidence in a particular skill before moving onto the next step. You can go at your own pace, pause and rewatch the lessons as many times as you like.
This class will help you build a basic fashion illustration foundation and a better understanding of what marker techniques work best so you can take your work to the next level without the frustration of figuring it out on your own.
We'll make mistakes together and I'll walk you through how to fix them so you have a better understanding of what makes an illustration "work". Whether you're a budding artist looking to start a new hobby or an aspiring illustrator contemplating a new career path, this is the perfect place to begin!
Gain instant access to 12 bonus downloads including multiple worksheets, templates, & reference guides
Frequently Asked Questions
When does the course start and finish?
Your recipient can start the course as soon as they enroll! It is a completely self-paced online course - they decide when to start and when to finish. While the total amount of video content is just over 5 hours, I suggest pacing the content out over a few weeks so they can spend enough time mastering each lesson. They should be able to completely finish the course within a month's time.
How long does my recipient have access to the course?
Your recipient will have access for the lifetime of the course, for as long as I continue to run Fashion Illustration with Marker Rendering for Beginners, and guaranteed access for AT LEAST one year after they enroll! All the downloadable worksheets and reference guides are theirs to keep so they can refer back to them long after they've finished the course.
What if I am unhappy with the course?
I'd never want you to be unhappy! If your gift recipient has finished the course and found that they haven't learned anything new, e-mail me within the first 30 days of purchase and I will give you a full refund.
Will my gift recipient gain access to all the lessons at once?
Yes! As soon as your recipient redeems the unique coupon code, they'll have instant access to all of the course content including videos and bonus downloads.
How is the class sent to my gift recipient?
Once you've purchased this giftable version of my Fashion Illustration with Marker Rendering for Beginners online class, an email with a link containing a unique coupon code will be sent within 24 hours to the email address you specified during checkout. You can then forward that email to your gift recipient so that they may redeem their online course gift.