Learn how to draw fashion figures with confidence and sketch a variety of poses, view points, body shapes and more!
Tell me if this sounds familiar...
● You love creating fashion illustrations but really struggle to make your figures look realistic and something always feels "off"

● Maybe you've perfected the straight forward runway pose but you want to branch out and sketch fashion figures in a variety of poses, movements & view points

● You'd love to be able to offer commissions or products that feature fun fashion sketches in your illustration business, but drawing people is intimidating!

● You just love sketching fashion and would like to improve your figure drawing skills so you can get those fabulous ideas out of your head and onto paper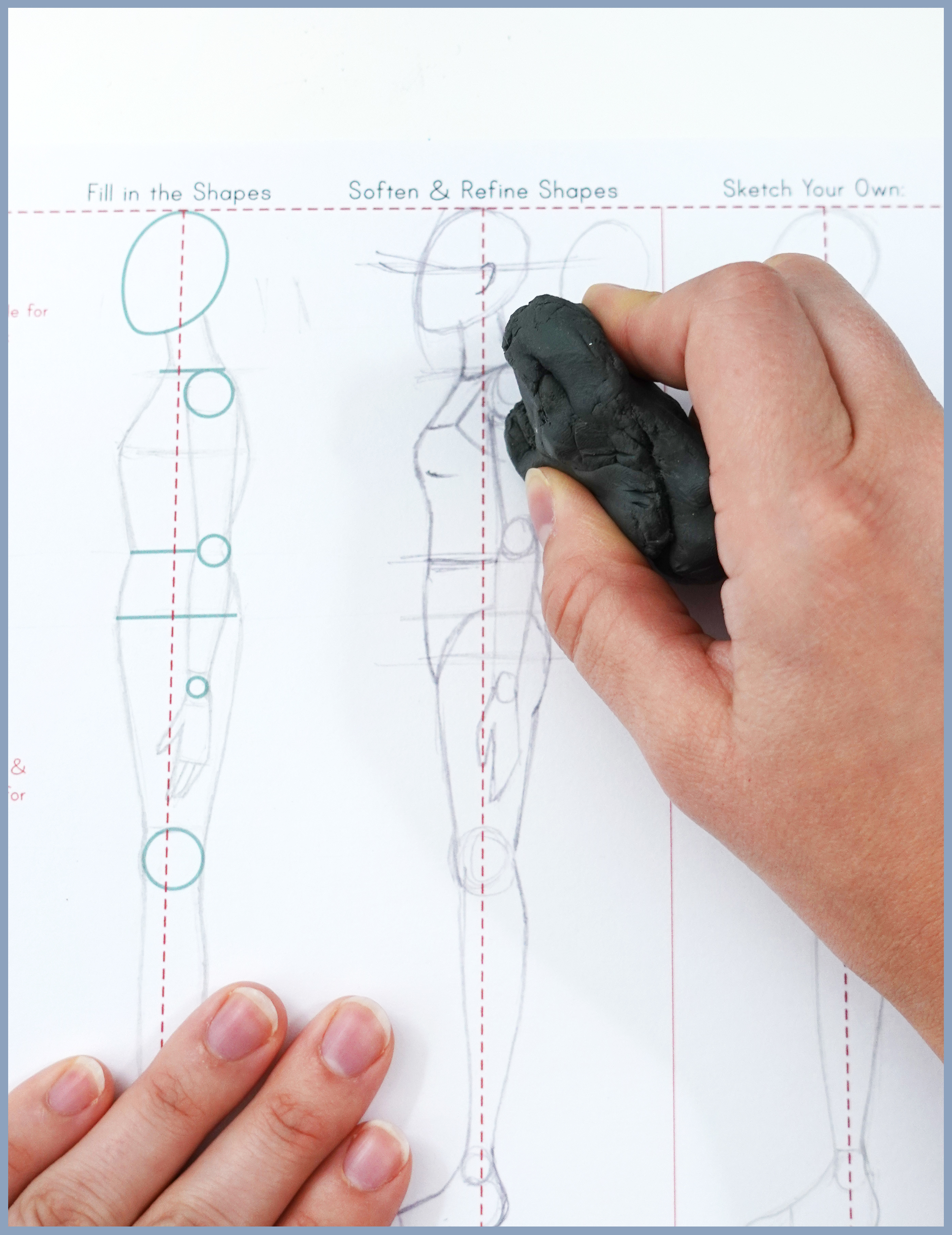 I'm right there with you!
I know first hand just how hard it is to draw people.
It's taken me years to feel confident sketching fashion figures from different view points in a variety of poses.


But after more than a decade of practice and lots of trial and error, I've learned all the tricks to deconstructing the human form, understanding how all the components fit together, and creating my own fashion figures that have movement and life to them.
This course won't just teach you how to sketch, it will transform the way you see your artwork so you can identify fixes and correct your own sketches in real time.

This in-depth course is composed of step-by-step video lessons designed to help you understand how the fashion figure is constructed so you can create dynamic fashion illustrations you're proud of!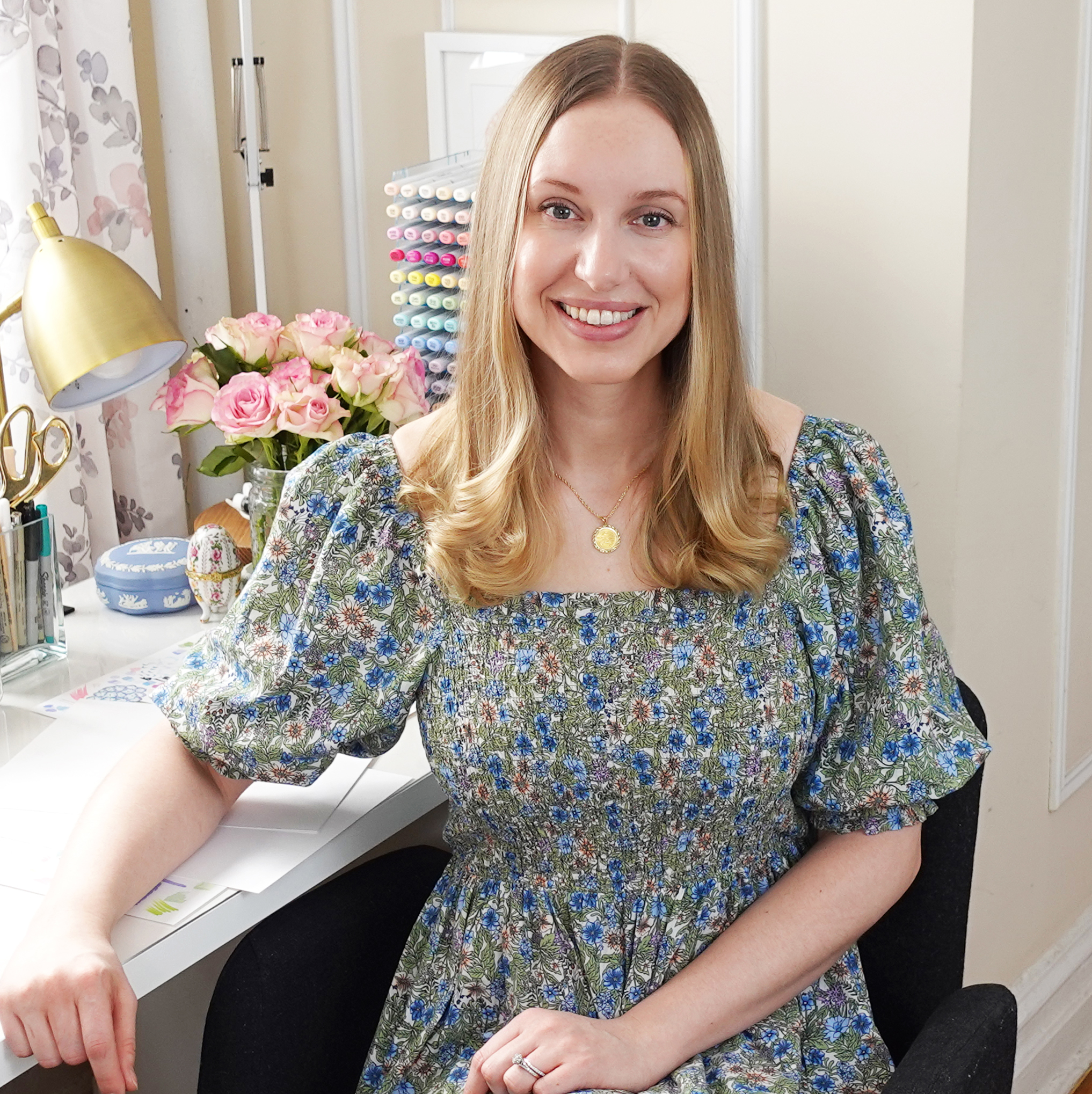 Hi! My name is Joanna
I'm a professional artist based in Somerville NJ with my husband and our two cats, June & Lola. I have a passion for illustrating and creating beautiful things, and I love encouraging others to pursue their own unique creativity.
Since leaving my corporate fashion design job in 2015, I've turned my illustration hobby into a multi-faceted creative business - running my illustration shop, creating commissioned artwork, licensing my illustrations and now teaching others how to create their own beautiful work too.
My journey into teaching began with Instagram, posting work-in-progress videos and sharing mini drawing tutorials on YouTube. After getting lots of requests for more in-depth instruction specifically geared towards beginners, my first online illustration course was born.
I'm eager to share all of my best illustration secrets with you so that you can skip past the wasted time & frustration and begin sketching what you love!


Whether you're a fashion designer looking to improve your portfolio sketches, an illustrator wanting to build confidence in drawing people or you just love creating fashion illustrations for fun and want to improve your figure drawing skills, this course was designed just for you...

What's Included in This Course?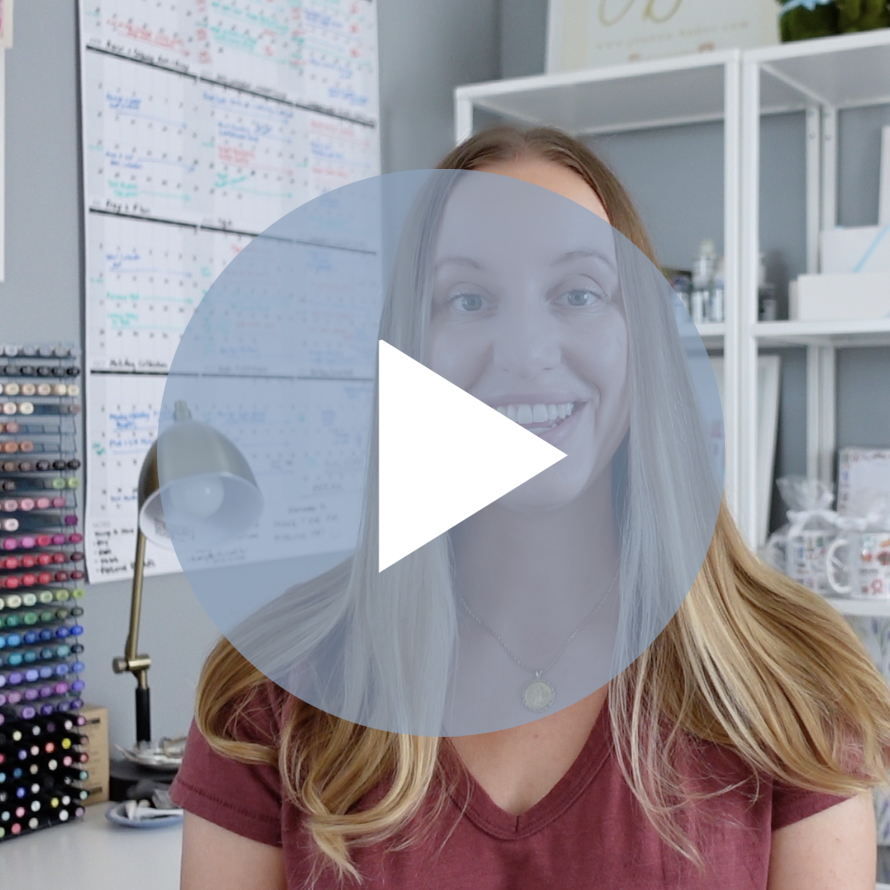 28 HD Video Lessons

As soon as you join, you'll gain access to all 28 video lessons so you can start watching right away.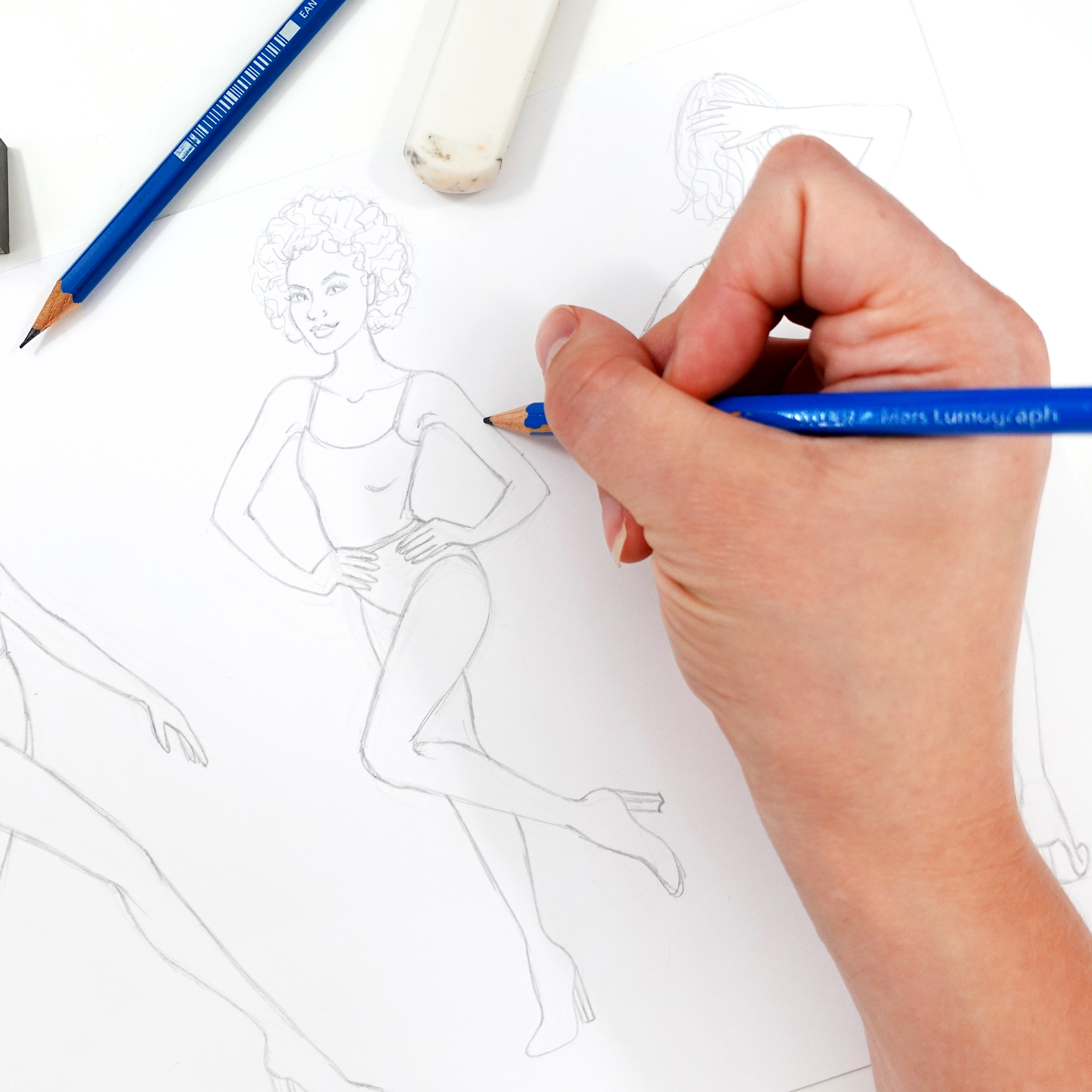 8+ Hours of Self-Paced Instruction

All the lessons are pre-recorded so you can watch them at your own pace, pause, rewind, and rewatch as many times as you'd like.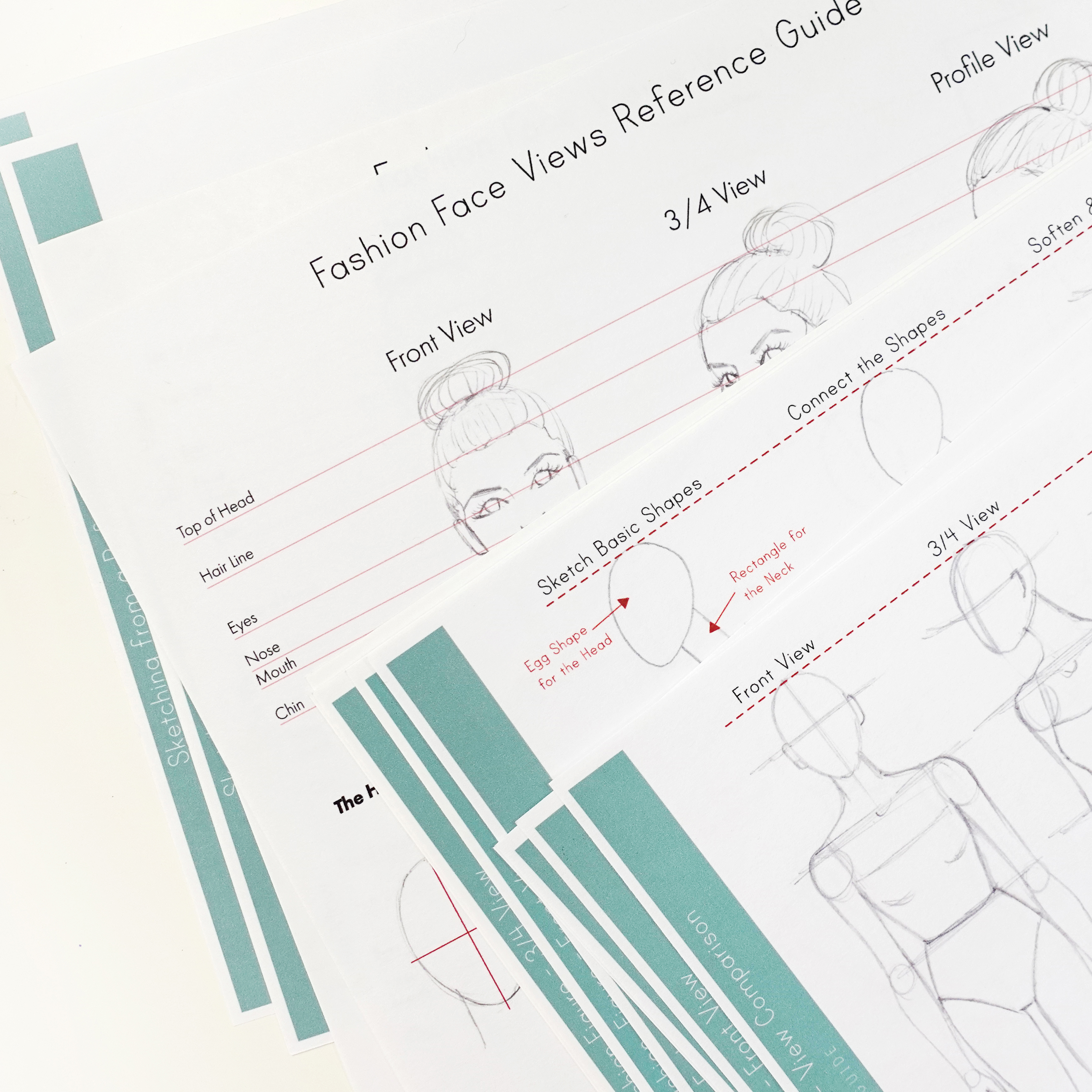 17 PDF Reference Guides & Work Sheets

Included in this course are 17 downloadable PDF worksheets and reference guides that we'll be using throughout the lessons.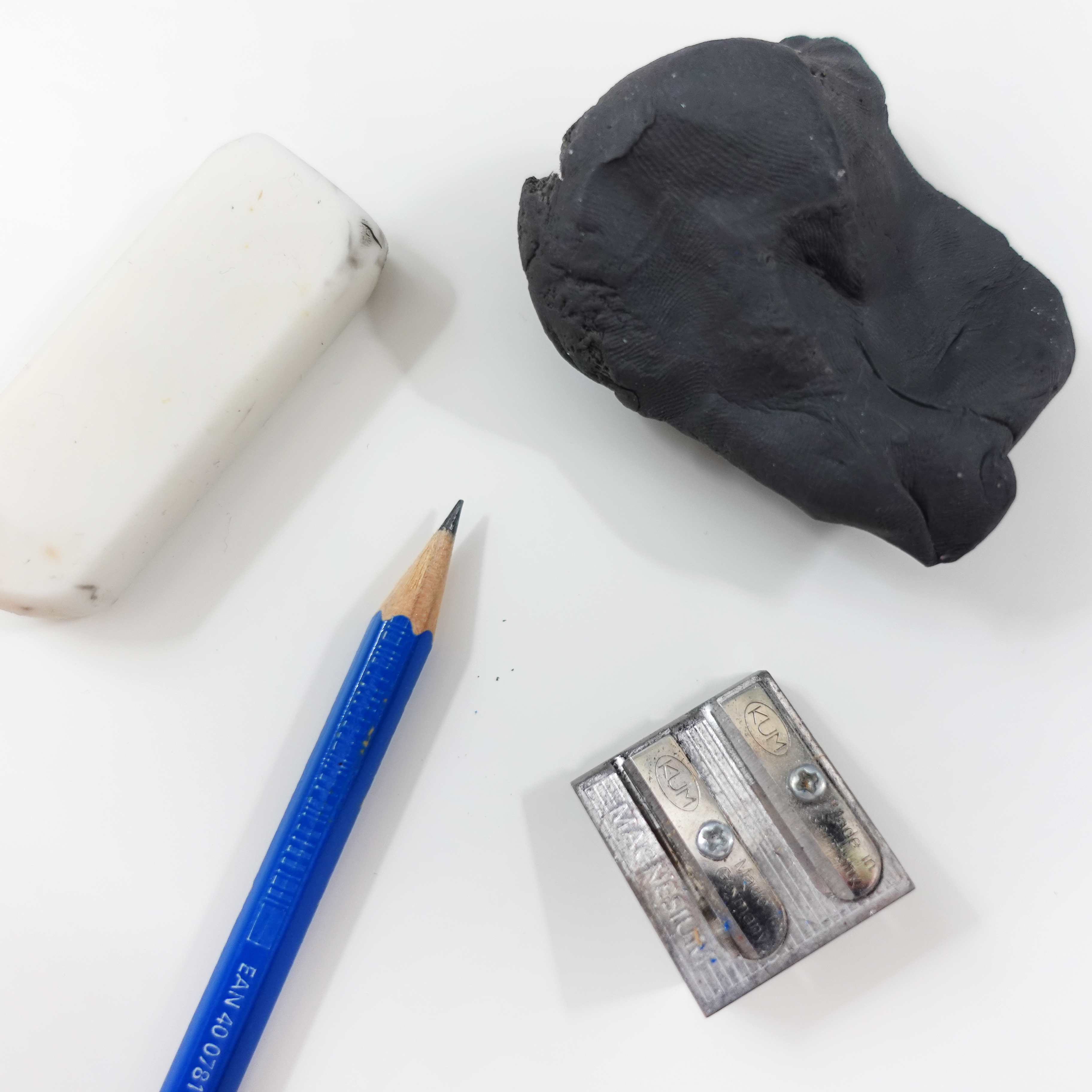 Materials List + Shoppable Links
You don't need any fancy supplies for this course but I do share my favorite brands and include links to purchase all the supplies I use in class.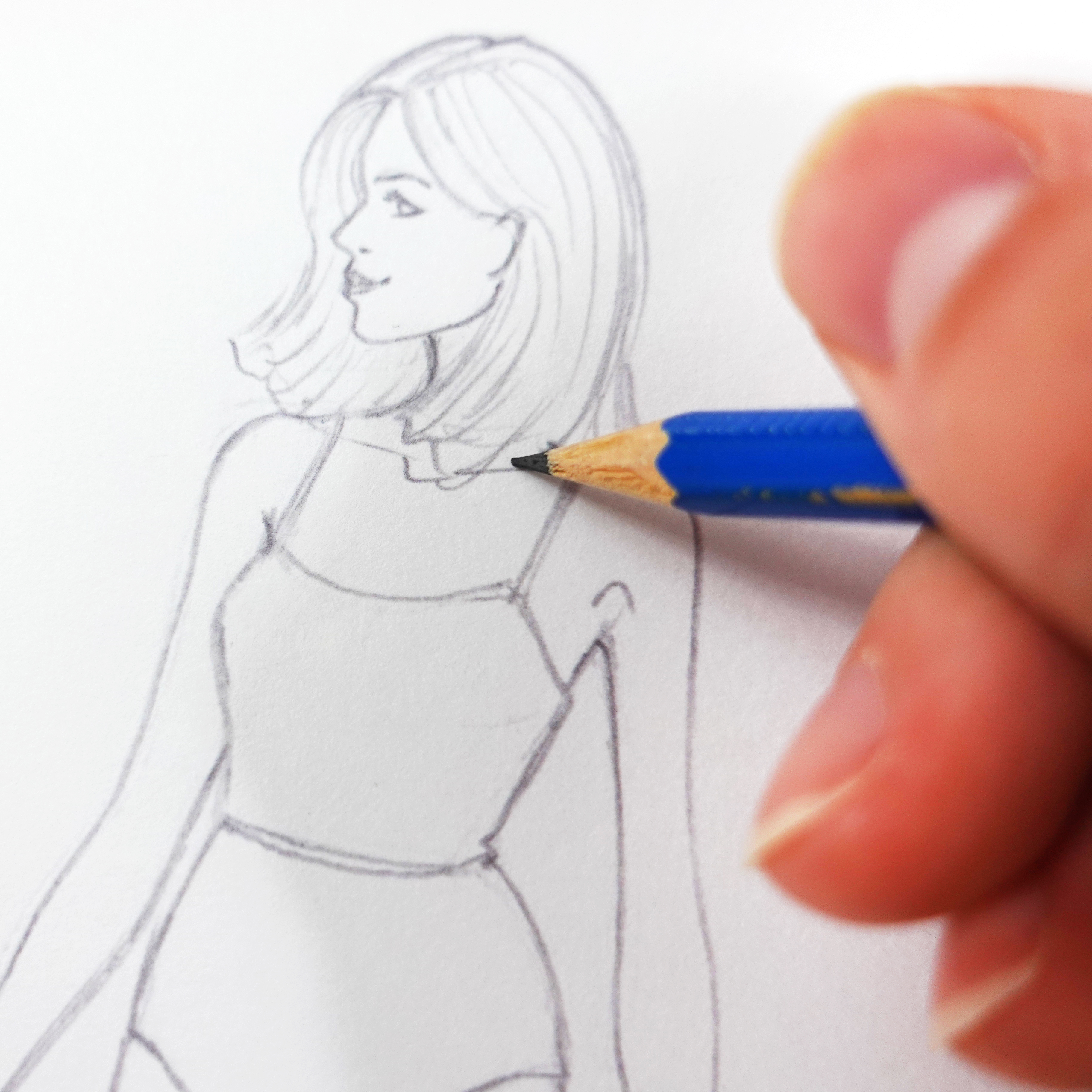 Unlimited Course Updates

When I decide to add additional lessons or make updates to the course, you'll have access to all future versions of Figure Drawing for Fashion Illustration.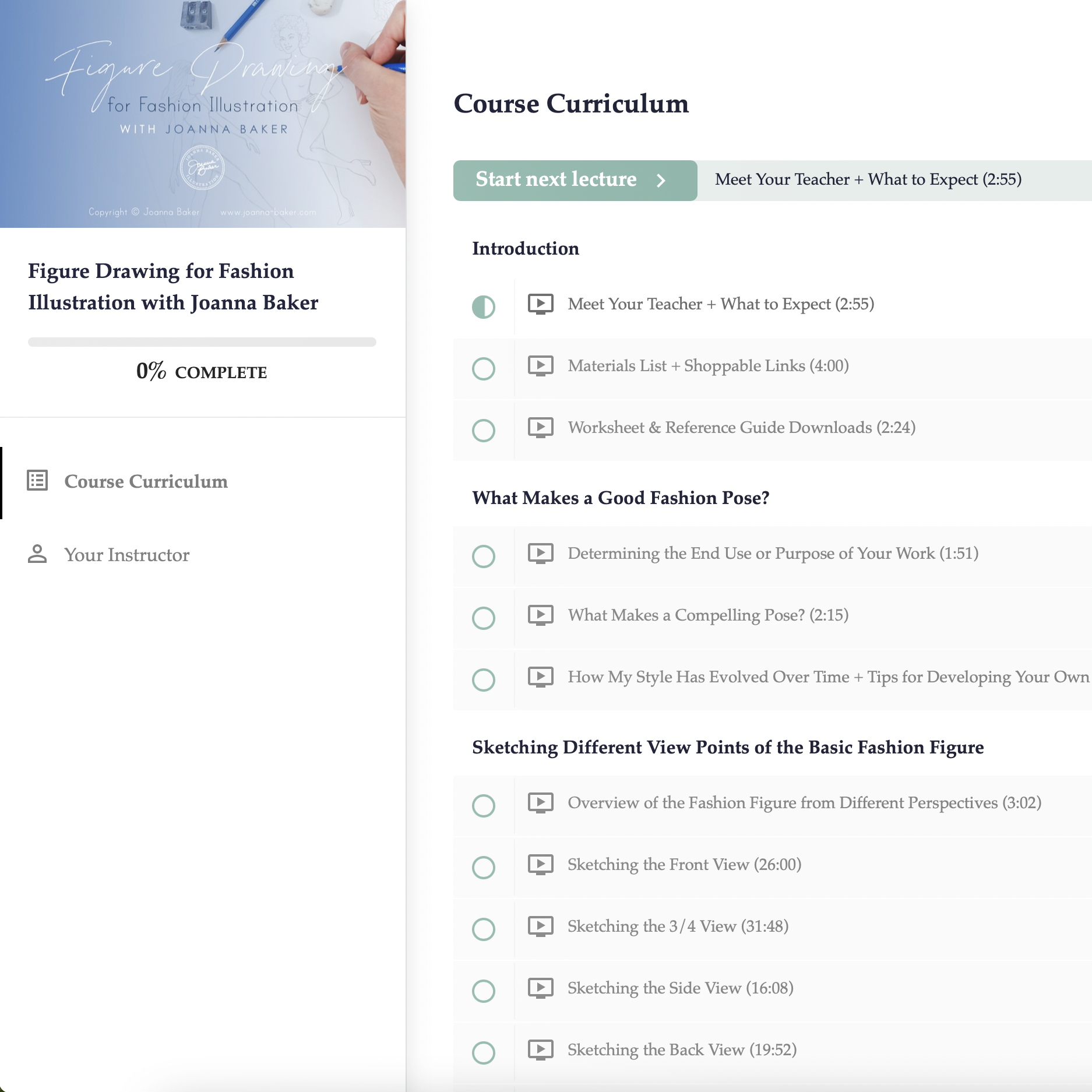 Easy-to-Use Course Platform

The lessons are organized beautifully so you can navigate through the curriculum with ease and prevent overwhelm. Your place in the course will be saved, so you can pick back up right where you left off.



Get a Peek Inside the Course Curriculum
Answers to Frequently Asked Questions:
Do I need any prior drawing experience?

It is helpful if you've had some fashion illustration experience before or have already taken my first course: Fashion Illustration with Marker Rendering for Beginners. But this isn't required and we'll be breaking every skill down step-by-step. 


Do I need any fancy art supplies?

Nope, nothing fancy! We'll be sketching exclusively in pencil so you'll only need a pencil, paper, eraser, and maybe a ruler. I do have some go to brands that I prefer and I'll share links to shop everything I use throughout the lessons.


Are the lessons live or pre-recorded? 
All the video lessons are pre-recorded so you can watch anywhere, anytime. This is a completely self-paced course and there's no pressure to finish in a set amount of time. 
How long do I have access to the course content?

You'll have access to all the course material for the lifetime of the course. As long as I continue hosting Figure Drawing for Fashion Illustration, you can return to rewatch the lessons as much as you like (or for a minimum of 2 years). The downloadable reference guides and worksheets are yours to keep. 

Does this include mens and children's figures too?
This course is geared specifically towards women's fashion figures. But the methods we use to break down the human form into shapes is universal and can be applied to sketches of men and children. 
How is this course different from your membership?

While The Bountiful Artist illustration membership covers a wide variety of illustration topics, my online courses go into much more depth and detail on a specific topic. This course is centered around composing the female fashion figure in a variety of dynamic poses and angles so you can add life to your sketches.  
Do I get access to future updates?

Yes! When I decide to update the course, you'll get access to the new content at no additional charge.
What happens if I'm unhappy with the course?

I would never want you to be unhappy! If you've finished the course and found that you haven't learned anything new, e-mail me within the first 30 days of purchase and I will give you a full refund.

What if I need help or have questions throughout the course?

Each lesson has a question box at the bottom so you can ask questions and get support. I'll also be offering a limited time VIP coaching call option ($497) for students who would like additional support. This pricing option will include a 1 hour private Zoom coaching call which you can select at checkout.



When does the course start and stop?

As soon as you join, you have access to all the course content and can work through the lessons at your own pace. While the video content is just over 8 hours long, I suggest pacing yourself and spreading out the lessons over 6 - 8 weeks.